Automatic Kneading Massage
---


Get a massager right in the comfort of your own home. Just close your eyes and feel the stress and tension leave your head and scalp. It will help stimulate your scalp facilitating hair growth. The perfect device for anyone who enjoys a nice rejuvenating massage anytime anywhere.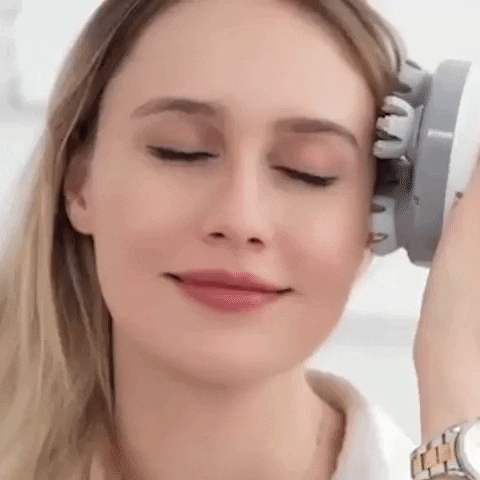 The smart massager provides gentle vibrations to the scalp which helps in increasing the blood flow rate through the head aiding in the growth of hairs and strengthening the hairs. If you want to grow your hair and get rid of shredding, this ultimate massager is the best solution.
FEATURES:
28 individual nodes and 3D Deep-Kneading

 perfectly fit the scalp, hand-simulation, and fully massage head. Increase blood circulation to the scalp, boosting hair growth, promoting relaxation, releasing stress, and relieving sores.

The Powerful 3D Kneading Massage nodes 

can relax and relieve pains on your back, neck, shoulder, waist, tights, calves, foot, legs, and arms. Helps you release stress, relieve sore and tight muscles and get relief on your whole body.

Waterproof & 4 Modes-

Dry and wet dual-purpose, IPX7 grade waterproof, you can enjoy comfortable scalp massage while bathing, relaxing thoroughly with 4-modes tension like a physical therapist.

Cordless and Rechargeable

-One button operation, easy to use. Enjoy a perfect massage anywhere without an annoying wire, get a full charge one time and you will enjoy a two-hour massage. Relieve tension from your office, home, or even your car.

Patented Hand-Simulation & Safety Protection: 

This Head Massager is custom-designed, a total of 28 contactors perfectly fit the scalp, deep and fully massage the head, shoulders, neck, and other parts of the body. Great ideal gift for men, women, parents, and friends. 
HOW TO CLEAN:
All it takes to clean your H-Rely Scalp massager is to remove each of the massager's heads.

Clean them and put them back in and you're set! 
BENEFITS:
✅ Food-grade silicone massage head enables great resistance to pull and oxidation, better toughness, and more durability.

✅ Totally 2 working modes and each mode have 2 intensity levels, you can instantly switch by pressing the power button and mode button according to your demands.
✅Life-stimulation kneading and relaxing vibration can effectively promote blood circulation on your scalp to relieve and eliminate tension and pressure.
✅ IPX7 waterproof design allows for both wet and dry use, and the detachable grippers can be removed easily for cleaning convenience, clean, and healthy.
✅ Whisper quiet and low power consumption delivers continuous enjoyment without disturbing others, energy saving.
✅ Come with a charging base to provide a quick and safe charging experience, and it will automatically shut off after fully charged in case of overcharge.
 SPECIFICATIONS:
Material: ABS + silicone
Product size: 130*110*150MM
Net weight/Gross weight: 409g/580g
PACKAGE INCLUDES:
1 X Wireless Head Massager